CHENEY ANIMAL CLINIC
1961 South 391st Street West, Cheney, KS 67025
316.542.3401
Dr. Tony Birney grew up on a farm near Bucklin, KS. He is a 1993 graduate of Kansas State University and has practiced large and small animal medicine since graduation. Dr. Birney is a member of the American Veterinary Medical Association and the Kansas Veterinary Medical Association. He enjoys golfing and hunting. Dr. Birney has 2 sons.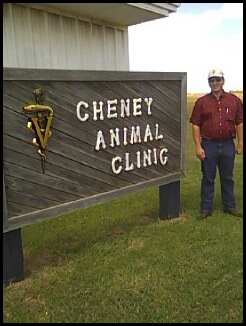 I grew up on a small farm outside of Garden Plain. After graduating from WSU a few years ago my passion for animals has eventually led me here!
Ariel Fluharty
I grew up on my family's farm outside of Yates Center, where we run a cow-calf operation, harvest crops, and put up hay. I have always loved animals which has led me to this field where I can continue to be around them. I enjoy being outside, riding horses, and spending time with my family in my spare time.
Mindi Holloway
I grew up in Wichita, KS. I graduated from Kansas State University with a degree of bachelor in animal science. I enjoy camping, hiking, and spending time with my dogs.
Courtney Jenkins